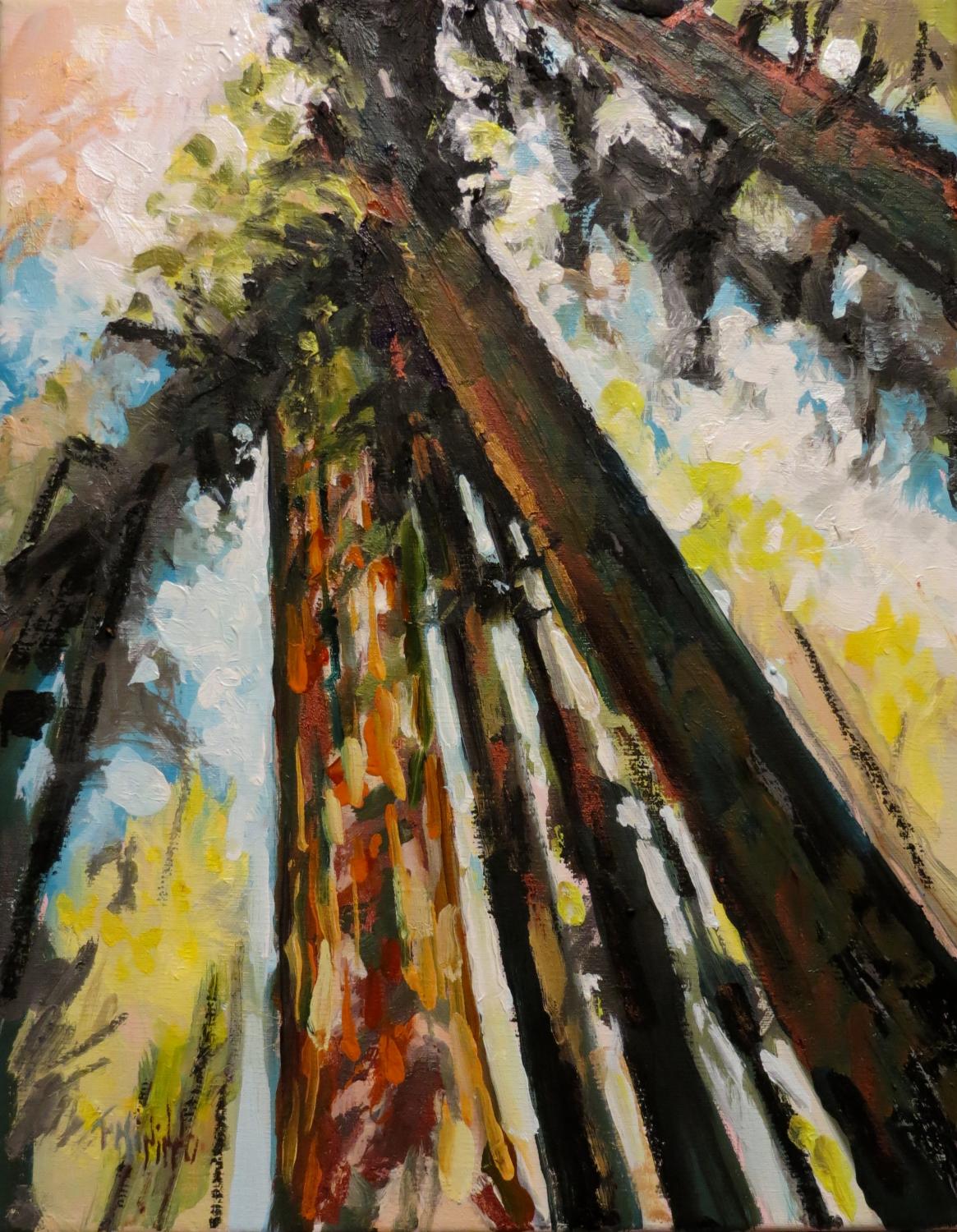 "Skyward"
14" x 11 "- mixed media oils/linen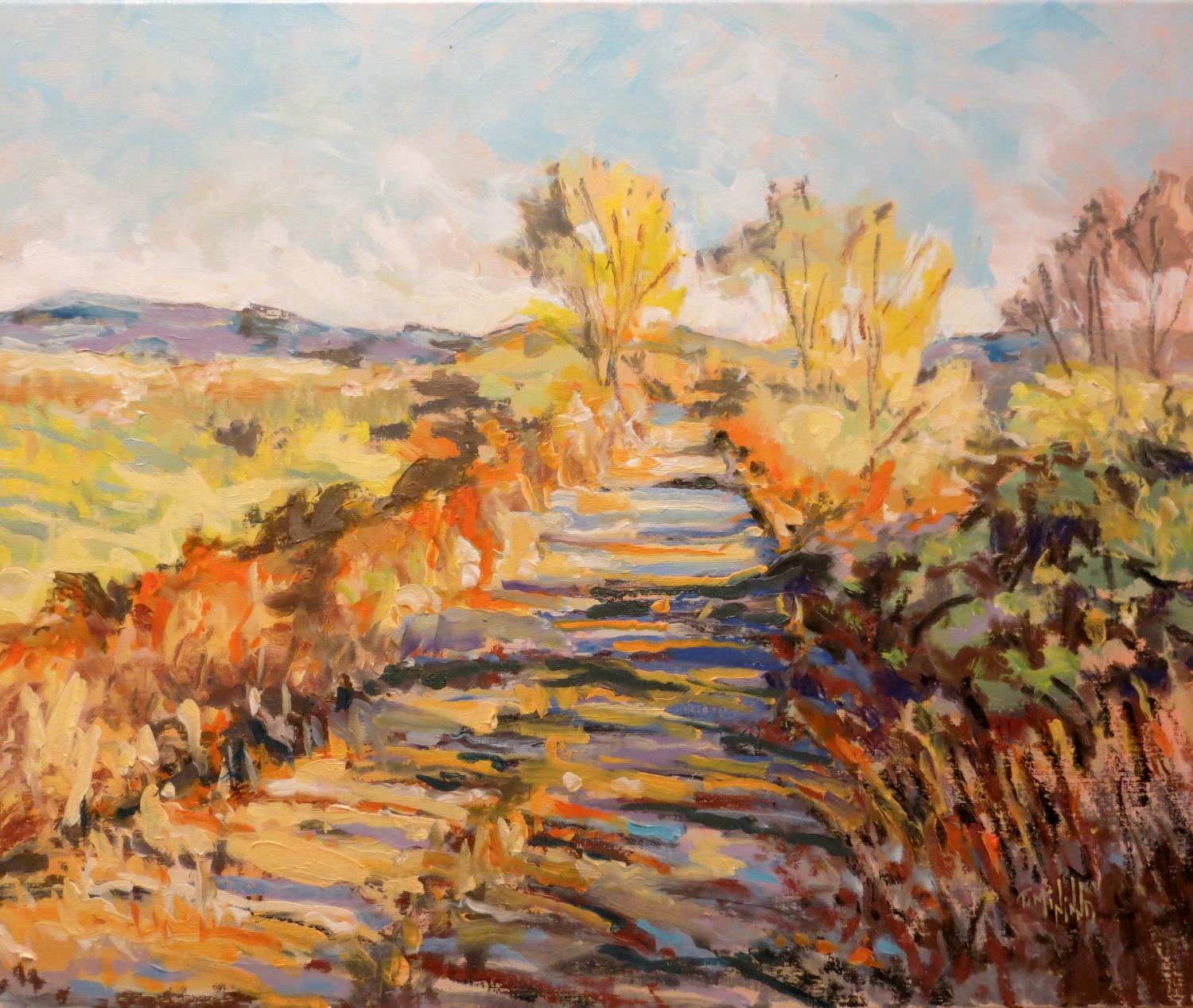 "Distant Hills"
20" x 24" / mixed media oils/canvas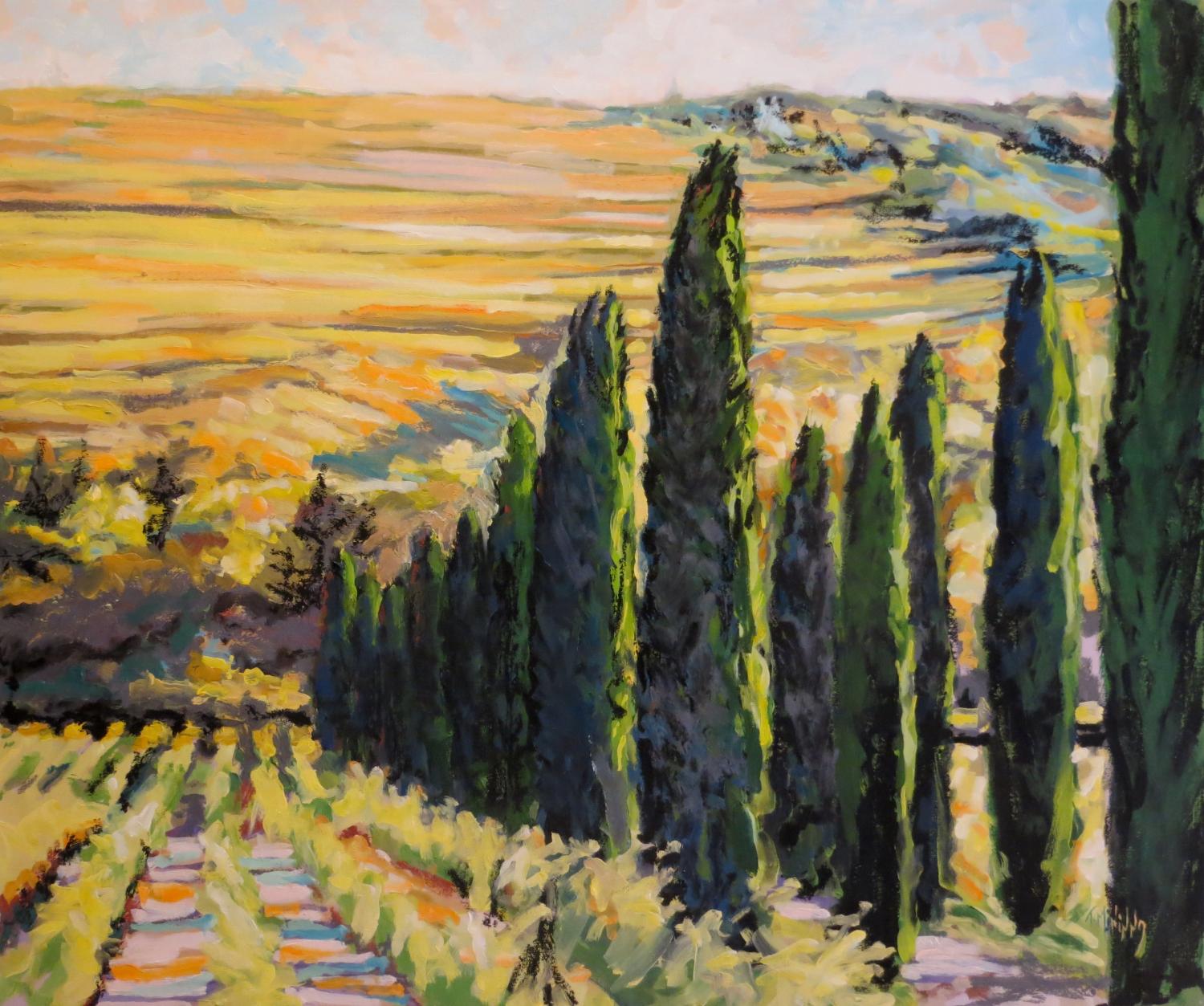 "Cypress - Ferrari Carano"
Beautiful row of Italian Cypress at the Ferrari Carano tasting romm and vineyards in Healdsburg, California. mixed meidia oils/canvas 30" x 36"
"Luminous Fields"
I get most of my subject matter from the hundreds of miles of landscape my eye takes in while I hike the hills and mountains in Sonoma County. This distant field at sunset is of grassland in the Valley Of The Moon area of Kenwood, CA
Mixed medium oils/linen - 9" x 12"
"Rose Trellis"
Roses are one of my favorite flowers; especially climbers. In this painting large white roses climb an old iron trellis. I painted them boldly to convey their weight and the bold statement they make.
Mixed medium oil/slinen - 18" x 14"
"Quarry Hill Walk"
Quarry Hill is a beautiful privately owned garden in Glen Ellen, California. Is contains a vast collection of Asian plants planted among meadows and hills. It is one of the places I often bring guests to, to walk the many walking paths any time of the year. This painting is one of the paths in winter.
Mixed Medium oils/linen - 16" x 16"
"Red Roses"
Duncans Mills is a small hamlet along highway 116 about seven miles from the coast and the town of Jenner in western Sonoma County, California. it is comprised of a small satellite post office, two restaurants, two wonderful art galleries and a handful of retail stores that are housed in several historic and contemporary buildings. This painting is of a summer garden; one of several that are nestled amonst the buildings.
Mixed medium oils/canvas - 12" x 9"
"Primrose Garden"
The Ferrari-Carano vineyards and tasting room in Healdsburg are one of my favorite places to bring friends from out of the area. For me the highlight of going there is to wander the gardens that were designed by and are the joy of Mrs. Carano. Last spring I was taken by this patch of primrose under the shade of one of the many varieties of a maple trees inn the garden..
Mixed medium oils/linen - 16" x 16"
"Golden Trail"
This painting makes use of all the metallic golds, bronzes and silvers I incorporate into my paintings. It really shows off my application of my mixed oil media perfectly. The subject is a portion of a trail on Sonoma Mountain in Santa Rosa, California, In this piece I capture the golden net of light the setting sun casts on the landscape.
Mixed medium oils/linen - 24" x 24"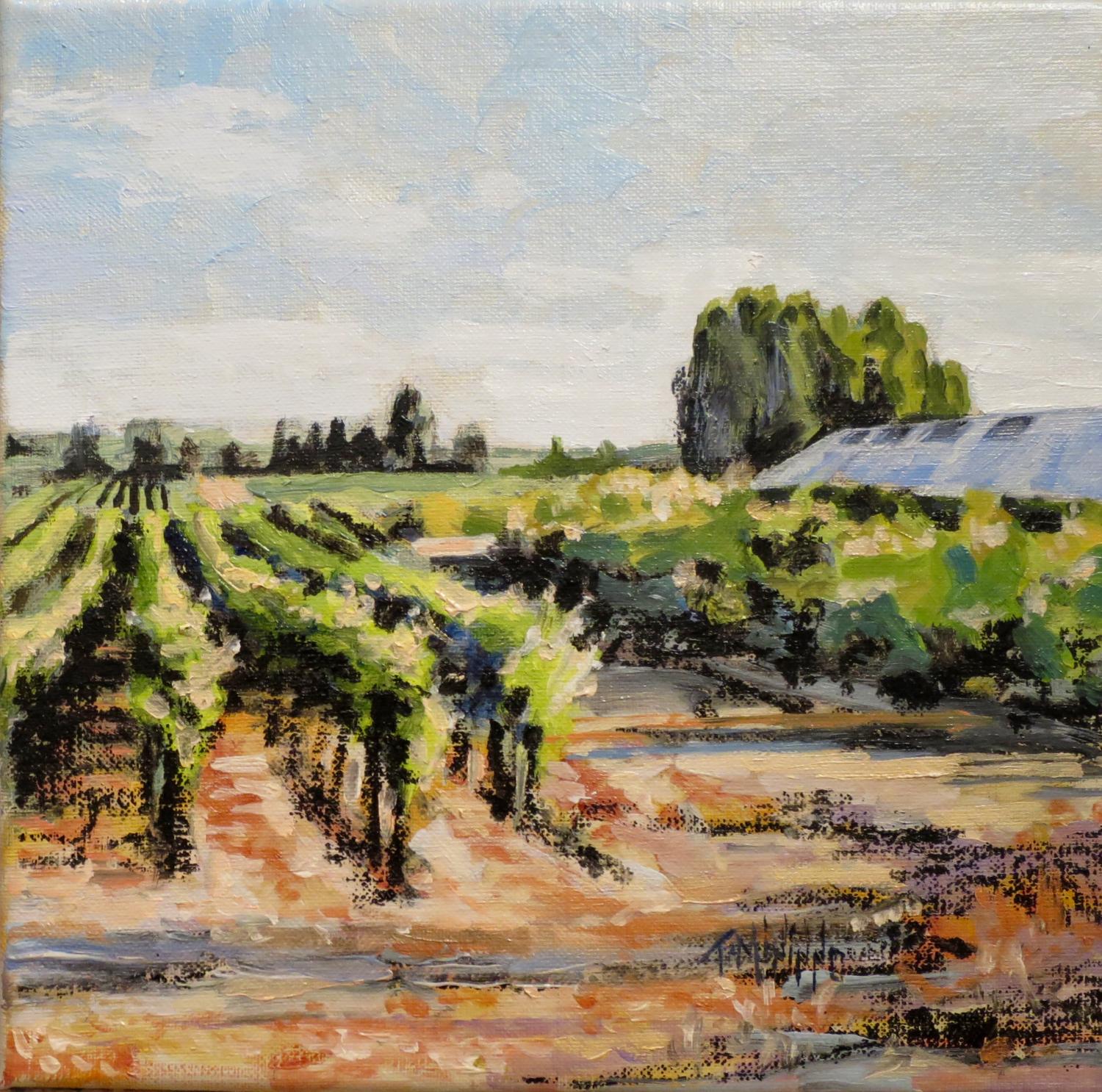 "The Vineyard"
Sonoma County is the home to some of the finest wines in the world. We are blessed to have the perfect Mediterranean Climate for growing grapes of all varities and our SonomaCounty landscape boasts beautiful rolling hills and flat valleys laden with thousands of rows of grape vines.
Mixed medium oils/linen - 10" x 10"
"Old Vineyard Path"
This section of hiking trail runs alongside a beautiful old vinyard that shares the property line with Shiloh Ranch Regional Park In Windsor, California.
Mixed medium oils/linen - 24" 24"
"Glowing Trees"
This painting is of a stand of manzanita trees at sunset located on top of a ridge in the hills of Annadel park in the Kenwood area of Santa Rosa, CA
Mixed medium oils/linen - 9" x 12"
"Camouflage"
While walking through Annadel park one early evening I spotted this beautiful large barn owl perched comfortably on a nearby tree. He did not seem bothered by my presence. Perhaps he felt secure knowing that he blended perfectly into the backdrop of trees around him.
Mixed medium oils/linen - 18" x 18"

"KJ's Red Barn"
Kendall Jackson wines has a vineyard of chardonay grapes at the top of a country lane in Occidental This old bard is part of the property that basks in the sun at eleven hundred foot elevation above the sea. mixed media oils/linen - 12" x 36"